Quick and Professional Help in Finding a 24-Hour Emergency Dentist in San Bernardino, CA
Team Emergency Dental offers quick emergency dental referrals in San Bernardino, California. We can match you with an emergency dentist near you, no matter when you face a dental emergency. Our live referral professionals help you quickly navigate the process of finding a San Bernardino emergency dentist and booking an appointment online. 
We have assembled a credible list of emergency dentistry specialists and out-of-hours dentists. We also have a 24-hour dental helpline 909-752-5515. These resources save you from the stress of researching online for local emergency dentists in San Bernardino, CA. A single call to our dental helpline is all you need to get emergency dental care for your issue. 
A Dental Emergency – What is it?
The American Dental Association (ADA) issued comprehensive guidance on what qualifies as a dental emergency on March 18, 2020. This guidance was part of ADA's measures to control the spread of Covid-19 and reduce the pressure on hospital emergency room (ER) and urgent care facilities. 
ADA defines a dental emergency as any dental condition that needs urgent treatment to eliminate extreme pain or infection or halt excessive soft-tissue bleeding. True dental emergencies based on this definition include:
Severe toothache arising from an inflamed pulp chamber 
Abscessed teeth or infection that causes severe pain and swelling 
Cracked, chipped, or broken tooth causing pain and/or soft tissue injury 
Knocked-out tooth arising from dental trauma 
Broken, lost, or lose dental implants, crowns, and fillings 
Steps to Take During Dental Emergencies
Try to stay as calm as possible when a serious dental concern arises. Call an emergency dentist in your location to reserve a same-day appointment. You can also call our dental hotline 909-752-5515 so we can help you with the search and appointment booking. 
You should then take some first-aid measures to alleviate the discomfort and avoid further damage. Applying a cold compress on injured teeth or soft tissues, for instance, can ease discomfort and swelling. 
Preserve an avulsed tooth to increase the chances of getting it replanted. You can try to place it back in the now-empty socket. You can keep it between your gums and cheek. You can also preserve it in a small container of cold milk or salt water. 
Warm salt water can ease your severe toothache. It can gently remove food fragments that are lodged between your teeth.
Urgent Dental Visit: How Should You Prepare
The preparation involved in an urgent dental visit is just the same as that of visiting a regular dentist. Ensure you carry our insurance card, identification documents, and information about the medications you are using. Call the dentist's office beforehand to find out the accepted payment methods and dental insurance plans. 
Many San Bernardino emergency dentists accept cash, major credit cards, checks, and dental discount plans. Most dental coverage plans are also acceptable in many urgent dental clinics in San Bernardino, California. But it's always best to ask in advance to avoid surprises. 
Try to get to the walk-in dentist's office at least 15 minutes early. You should then complete some forms that document your dental history. Be sure to inform the dental office staff if you react to any medication or have dental anxiety. 
The office staff will direct you to the treatment room when it's time for you to see the dentist. First, the dentist will ask about your symptoms and offer you medication to ease the pain or discomfort you might be experiencing. 
They will carefully inspect your teeth and gums and capture dental x-rays. They will go through the findings to identify what is causing your dental problem. They will then discuss the best treatment for your condition. Your dentist might also share some tips to help you avoid dental emergencies in the future.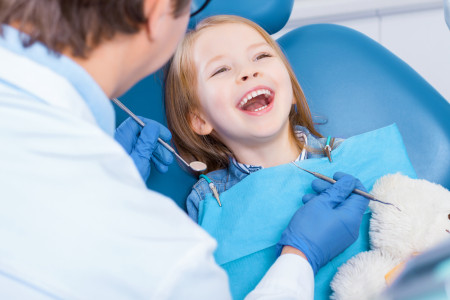 When is Visiting an ER Necessary?
Go to a local ER first if you have been injured in a slip and fall, car crash, or sports accident. The emergency room physician will perform a comprehensive exam to determine if you have broken bones and other life-threatening injuries. The physician will provide the necessary treatment and medication. You will still need to see an emergency dentistry professional in San Bernardino for emergency dental treatment. 
We are a one-stop center for all emergency dental services. Call 909-752-5515 any time you find yourself in an urgent dental situation. We will pair you with a trusted urgent care dentist in San Bernardino, CA, within minutes.
242 E Airport Dr, #215 San Bernardino, CA 92408
92322, 92324, 92346, 92354, 92359, 92376, 92401, 92404, 92405, 92407, 92408, 92410, 92411