Emergency Root Canal Specialist Near-Quality Service Assurance
Ouch! You have the worst tooth pain from a gaping hole in a problematic tooth. Bitting on food scraps shoots jolts of pain into your nerves. You can't even handle hot meals or cold meals. If the pain is unbearable, the best treatment is opting for a root canal treatment. You can save the tooth by repairing it rather than having it removed. For the best root canal dentists near me, call us for immediate assistance at 833-414-3355.
What is the root canal procedure?
Normally protected by hard outer layers, your tooth pulp may become exposed due to several factors, such as tooth decay or trauma. The root canal dental treatment targets the pulp. Dentists remove infected or inflamed pulp along with the nerves ending and blood vessels responsible for nourishing the teeth. But don't worry. A fully developed tooth may survive without the inflamed or infected pulp.
Is a root canal treatment a dental emergency?
Yes, it often fits the criteria of dental emergencies. That's because infected or exposed teeth may become unbearably painful. Serious complications may arise by not having the diseased tooth treated. Not only will it impact your ability to function normally, such as going to work, but you may have to contend with a heavily swollen cheek and the tooth may eventually die.
If you need this vital emergency dental care, you can simply engage with our professionals. Get your dental office appointment secured without leaving your couch, and pop in for a root canal treatment as soon as today or tomorrow.
Benefits Of Getting a Root Canal
Dentists in the US perform over 15 million root canals every year. It's a leading treatment option for tooth decay, fractures, and trauma. So why is it an overwhelming choice for many patients? Here are some of the top benefits of root canal therapy for dental health:
Root canals are meant to be virtually pain-free. Before the dentist works on the infected teeth, they apply topical anesthetic on the gums close to the affected teeth. This makes the corresponding injection to apply the local anesthetics nearly pain-free. At most, you may only feel a slight pinch.
You can have an infected tooth extraction, or you can choose to save it by having a root canal. Following the removal of the root pulp, the dentist will attempt to rebuild the lost mass with filing. You can also choose to have a permanent crown placed.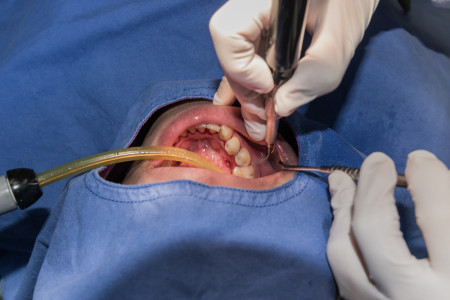 Stops Bacteria Transfer and Infection of Neighboring Teeth
If you want to improve your oral health, requesting a root canal can completely remove the bacteria-infected root pulp. It stops the spread of the infection to neighboring healthy teeth.
Restored Tooth Functionality and Aesthetics
The dentist may fill the gap or install a permanent crown on the second appointment, which restores tooth function and improves aesthetics.
Prevents Jawbone Degeneration
Teeth exact pressure on the jawbone, preventing bone loss. If a tooth is removed, it may contribute to jawbone degeneration. A root canal saves the teeth and the dentist can install a permanent crown, allowing the repaired teeth to exert the same pressure.
You'll feel the benefits of a root canal from the first appointment when you walk out of the dentist's office virtually pain-free. Taking care of the treated teeth won't require any special techniques. You can keep brushing your teeth with your normal toothbrush.
Effective And Lasting Results
Root canals have a success rate of over 95%, according to the American Association of Endodontists. Crowning the tooth may even give it a chance to last a lifetime.
Why do you need to see an emergency endodontist for your root canal?
An endodontist is a root canal specialist who specializes in dental pulp dentistry. You may need to see one if your case presents certain challenges to the general dentist, who still receives some level of training in endodontics. Many people may willingly see an endodontist because they have a little bit more experience and training in dealing with root canal issues, which can better guarantee quality results. They can also take up a case where the previous root canal treatment failed. The root canal dentist may also intervene where a tooth has been completely dislodged from its socket and may require to be saved by splinting it to adjoining teeth. You easily book your dental appointment with an endodontic surgeon from our hotline.
Root Canal Procedure - What to Expect
You can expect a two-stage root canal process. The emergency dentist may perform the following steps for the treatment:
1) Properly diagnose the tooth. The dentist may request a radiograph with an X-ray, but not always necessary.
2) Create access from the crown to remove the infected pulp.
3) Removing the pulp and nerves
4) Thorough cleaning of the pulp chamber with rinses such as sodium hypochlorite
5) Filling the root canal with a filler using Gutta-percha points
After the first appointment, the dentist will install a temporary filling. The dentist schedules the next appointment within 1 to 3 weeks. On the second visit, the dentist will:
6) Remove the temporary filling
7) Checking for any leftover nerves
8) Installing a permanent filling
How Much Does Root Canal and Endodontic Surgery Cost?
Root canals may cost anywhere from $700 to $1200. Apicoectomy, targeting the root tip, is the most common endodontic procedure and costs about $900 to $1300. The cost may vary depending on the type and location of the tooth, along with the surgeon's qualification and local rates.