Emergency Dentist Indianapolis - Quick Professional Dental Care
Do you need urgent dental care and don't know where to look for it? Most emergency dental services in Indianapolis are not taking the same-day appointment for your dental emergency, or they are not open as you seek help from the nearest professional dentist.We at team emergency dental help patients find and set up an appointment with Indianapolis emergency dentists. Our dental professionals are open on weekends and holidays and operate 24 hours a day.
Call 888-941-8655
to book your nearest dentist today.
What is a dental emergency?
A dental emergency is a serious problem that requires immediate attention to alleviate sharp pain, save a tooth, or halt excessive bleeding.
At times, dental emergencies can be life-threatening infections. You can also think of it as anything beyond the typical routine conditions.
The situation can make life unbearable such that using your mouth for daily functions may be impossible. Seeking professional assistance will be vital, and it can even mean avoiding the high costs involved with other procedures. For instance, saving a tooth knocked out as a result of contact sports can mean avoiding a lengthy and expensive tooth implant procedure.
Some issues that may involve dental implants and prosthetics may also warrant emergency dental care. 
Dental Emergencies Provided by Emergency Dental Services
Here are some common dental emergencies along with what dentists may do about them: 
Tooth pain results when the nerves found in the root of the teeth are irritated or exposed. Canines and incisors tend to have one root, while molars may have three. Some leading causes of tooth pain from nerve irritation include decay, infection, injury, or tooth loss. 
Gum disease can also make teeth more prone to pain.
In some cases, the tooth pain may not be tooth pain but pain that originates from other parts of the mouth and body, such as jaw pain, sinuses, heart problems, and ear pain. 
What will an Indianapolis dentist do to relieve tooth pain?
The dentist will try to determine the root cause in order to relieve the tooth pain. For instance, if the pain stems from a deep cavity, they may ever recommend extracting the tooth. A dentist may also offer the option to save it with a root canal, a procedure that targets the removal of the nerves in a mature tooth. 
Will the procedure be painful? Modern dentistry has sought a path of relieving pain as much as possible, even during procedures. For instance, before beginning a root canal procedure, the dentist will inject local anesthesia into the inner cheek or gum. Don't worry about painful injections. They may also spray a numbing gel right before injecting the medicine.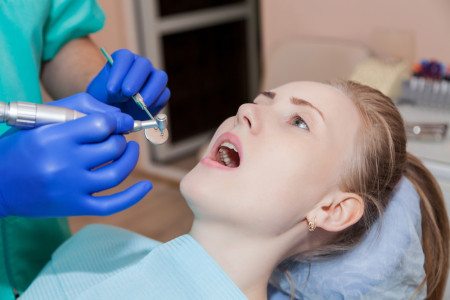 A tooth becomes knocked out when it's completely dislodged from its socket. Fortunately, there are some actions you can take to save the tooth before seeing a dentist. The most important thing to protect will be the root section. You can either hold it by the crown or attempt to put it back into the gum.
If it's dirty, you can give it a quick rinse of not more than 10 seconds on cold running water or lick it. If it becomes difficult to return it to the socket, consider immersing it in milk or save your saliva in a container and put it in. You can even hold it inside your mouth between your gums and cheeks. 
What will a dentist do about knocked-out teeth?
They will splint it to hold it in place. That means keeping it in position using the support of the teeth on either side. They typically use composite material or a soft wire. 
A damaged tooth may be accompanied by severe toothache. It may also pose a risk of serious infection if left untreated. Bacteria will have an easy time entering the deepest sections of the tooth. If the bacteria enters the bloodstream, it can even impact the whole body. So, even if breaking or cracking a tooth doesn't seem serious, it's important to seek the intervention of a dentist right away, particularly if there is pain involved. 
How will a dentist treat a broken tooth?
The treatment option may depend on the severity of the broken tooth. If it's a small chip, the dentist may use feeling or bonding with a tooth-colored resin. It's also possible for the dentist to glue back the tooth fragment.
If the damage is extensive, they may perform a root canal to remove the nerves and reduce toothache. They may then install a dental crown over the tooth. 
The likely cause of bleeding gum is gingivitis or gum disease. It results from the accumulation of plague. Unmanaged gingivitis can eventually contribute to a serious medical emergency. 
What will the dentist do to stop bleeding or swollen gums?
The first step the dentist will take is to perform a proper diagnosis to determine the necessary immediate treatment. They may ever have you perform an oral rinse and can prescribe various medications. Dentists may also perform a deep cleaning to remove the plague. In extreme cases, it may be necessary to perform surgery. 
Advantages of Emergency Dental Service
Opting for services offered by our emergency service partners entitles you to various benefits, including: 
Outermost convenience: Don't worry about searching on multiple websites to find a reliable Indianapolis emergency dentist near you. Place a call to our call center and receive the help you need. 
Highly qualified and professional teams: work with clinics that maintain world-class standards in dental care.
Same-day appointments: Dental emergencies should not wait. So, get same-day assistance in Washington St Indianapolis. 
Pain-free experiences and modern approaches: Dental appointments should be as comfortable as possible. Work with an Indianapolis dentist that utilizes modern approaches for quality dental care. Sleep dentistry may be offered as well. 
Clinics accepting dental insurance: Use your dental insurance to pay for various dental emergencies across the clinics. 
All dental services with one call: Get help with many dental emergencies, from severe toothache to emergency denture repair. 
Who is a 24-Hour dentist?
The term is typically used to describe a dental clinic that may offer dental services on-demand and out of hours. It's a convenient service that may be handy when you don't have time to spare during a working day to see a dentist. 24-hour clinics may also offer emergency services 24 hours and 7 days a week. 
Get Help from A 24-Hour Emergency Dentist
If you need an immediate appointment with a qualified dentist in Indianapolis,
call our helpline at 888-941-8655
. Confirm a few details about yourself and the nature of the emergency, and you will receive a booking to see a qualified dentist right away.You can make arrangements on how you will get home from the dental appointment, as sometimes it may be difficult to drive.If you are paying for the service by yourself, you can make additional inquiries to the dental clinic about the payment method they support.
10333 N Meridian St, #712 Indianapolis, IN 46290