Affordable Dental Implants Near You
Getting help from dental implant specialists only takes a few moments of your time. Call our support number at 833-414-3355. Answer a few questions about the nature of your request. Get directed to the nearest dental office based on your location and care. You'll access leading quality care providers with no formal, lengthy appointments.
Long track record of success
Accredited and vetted practitioners
Affordable services for all
Broad service range with one call
Read more to have your questions answered about dental implants, the implant process, artificial teeth, and more:
What are dental implants, and who needs them?
Many Americans struggle with tooth loss, blamed on four common causes, trauma or physical injury, periodontal disease (accounting for 70% of losses), cavities, and other risk factors.
In prior years, the most commonly used tooth replacement options were bridges —where crowns on either side of the missing teeth were used to support artificial teeth— and dentures —removable teeth replacements made from acrylic.
Presently, dental implants are the trending revolution in dentistry. The treatment option is not new, to say the least. Gosta Larsson received the first dental implant in 1965, passing away in 2005 with the same implants attached. Ancient Mayan and Chinese cultures used some form of dental implants.
So, a dental implant resembles a typical tooth with three main parts. The implant body serves as an anchor. Dentists will surgically implant it into the jawbone, mimicking the support provided by the tooth root. The middle section consists of the abutment fixation screw that secures the artificial crown to the implant post.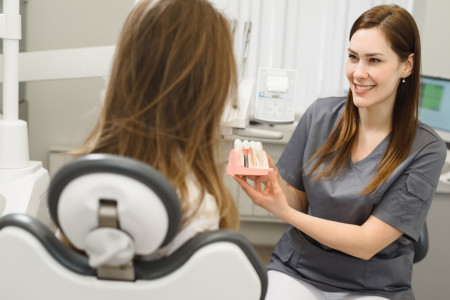 Over 3 million people in the US have implants installed, with half a million new installations every year. People choose implants, over bridges and dentures, because of several advantages, including:
Likeness to real teeth: Dental implant placement allows you to match your existing teeth, and over time the implants fuse with your jaw bone.
No slurring and mumbling: Poorly fitted dentures cause wearers to slur and mumble over words. Implants overcome this limitation.
Maximum comfort: Replacement teeth fuse with your gum, eliminating the discomfort that comes with dentures.
Boosted confidence: Accidental denture slips may cause moments of embarrassment. Tooth replacement provides the same feel and the look of real teeth, leading to a better smile and high-self esteem.
Durable: Dental bridges and dentures have 5 to 10 years of useable life. Implants screws may last for a lifetime, but the crown may wear down after 10 to 15 years.
High-success rate: It's estimated that 5 to 10 percent of implants fail shortly after the procedure or within several years.
Better dental health: Taking care of dental implants is akin to taking care of your natural teeth. Simple and convenient with your ordinary toothbrush.
Dental Implant Procedure - What to Expect
Choosing between subperiosteal or endosteal implant types can significantly impact the procedure steps and timelines. Endosteal is the most common implant type, involving fixing the implant into the jaw bone, while subperiosteal entails placing the implant on the jaw bone.
With endosteal implants, the dental implant treatment begins with the skilled dentist carefully examining the patient, looking for healthy gums and adequate jaw bone to hold the implant. You may have to wait for 3 to 4 months after the extraction of an existing tooth to give the socket enough healing time. A course of antibiotics may be recommended for better healing.
If the patient has suffered bone loss, the dentist may recommend a bone graft with a bone from another part of the body or artificial bone to spur growth. With subperiosteal implants, the dentist may proceed even without sufficient jaw bone height.
Now, the implant process proceeds in three steps:
Titanium post-implantation: The dentist drills a hole into a healthy jaw bone to attach the metal post. It takes about 1 to 2 hours for the initial implant placement. For sufficient bonding, the dentist may allow 3 to 6 months for the healing process. Dentists may recommend having a temporary denture to close the gap or prevent other teeth from growing into the space.
Abutment attached: The gum may heal over the implant. So, the surgeon first exposes the metal post before attaching the abutment. The gum may require further healing for 2 to 6 weeks.
Dental crown placement: Finally, the dentist inserts the crown modeled from impressions of your teeth. Patients may choose from porcelain, gold, and other materials for the crown.
The particulars of the process may change, depending on the number of implants required. For multiple implants, the dentist may recommend procedures such as all-on 4 and Zygomatic implants.
How much does a dental implant cost?
Costs for single dental implants range from $1500 to $5000. Dental implants cost may increase if there is a need for additional procedures, such as bone grafts or sinus lifts. The implant cost doesn't typically factor in costs for the dental crown and abutment. They may add $500 to $3000 to the cost depending on crown and quality preferences.
Can I get a free dental implant consultation?
Not all clinics offer free dental implant consultations. Still, you may find offices offering free consultations, allowing patients to ask personalized questions or become acquainted with the team and facilities. You can inquire about the free visit when you speak to our dental assistant specialists.
We invite you to find the best implant dentist by calling 833-414-3355.