The Go-To Service for Emergency Dental Care in Atlanta, GA
You should never ignore any emergency, including dental emergencies. Trauma or infections affecting your mouth, soft tissues, and teeth can put you through unbearable pain. If you leave them unaddressed or get ineffective treatment, the consequences can be dire and long-term.At Team Emergency Dental, our goal is to help you get quality care and treatment for your emergency dental situation. We achieve this goal by linking you with an emergency dentist in Atlanta timely and stress-freely.Our referral service helps you quickly get the information you need to locate an open dental clinic when a dental emergency arises. Don't endure pain for countless hours as you call around and Google search available emergency dentists around your Atlanta home. Instead, give us a
ring at 888-941-8655
, and we'll give you a list of all open emergency dental clinics in the Atlanta area.
Why Choose Our Emergency Dental Referral Services?
Round-the-Clock Availability
We understand that dental emergencies are unpredictable – they can strike at any time. For this reason, our phone lines are open 24-hours a day, 52 weeks a year, including nights, weekends, and holidays. We can secure an emergency appointment with an Atlanta emergency dentist for you any time you need emergency treatment. 
Competent, Courteous, and Professional U.S.-Based Referral Specialists
We have a highly trained, experienced, and courteous referral team that consists of U.S.-based professionals. These professionals understand common dental emergencies you are likely to face in Atlanta, GA.
They also know exactly where you can get urgent dental care in this massive city. Once you call our toll-free number 888-941-8655, a referral pro will answer your call, ask you a few questions, and refer you to a nearby emergency dental clinic.
Prompt Location of a Conveniently Located Emergency Dental Office
When you are in a dental emergency situation, you need a clinic that is in your neighborhood. A nearby dental clinic can come in handy when you have a knocked-out tooth or severely injured tooth.
 The earlier you get to the dentist's office, the higher the chances of saving the tooth. Through our referral service, you can quickly and stress-freely locate an emergency dentist's office near your home in Atlanta, GA.
Quick Location of Clinics in Your Insurance Provider's Network
If you give us your dental insurance information, we can link you with a dental practice that accepts your plan. That way, you might avoid paying for your emergency dental services out of pocket. 
Access to Emergency Dentists who Belong to Reputable Professional Associations
We usually conduct thorough background checks before adding a dentist to our listing. The dental services provider must have the required training, experience, and membership in globally known associations like American Dental Association (ADA). 
Members of this association must comply with the ADA code. This code requires dentists to conduct themselves professionally and ethically. Whether you have severe tooth pain, cracked teeth, dental abscesses, or tooth decay, any dentist we recommend will offer you high-quality dental treatment.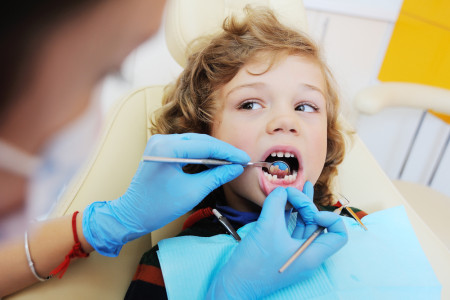 I Have a Broken Tooth. What Should I Do?
Acting fast is the key to saving a broken tooth. Teeth can break because of dental trauma arising from car accidents or sports injuries. Dental problems like severe decay or lost fillings can also cause teeth to break. No matter the cause, an emergency dental visit may be necessary to preserve the tooth structure. Take the following steps if you have broken a tooth: 
Locate the broken pieces, collect them carefully, and preserve them in a clean, dry plastic bag. 
Gargle with warm water to clear out dirt and debris from the remaining tooth.
If your tooth was broken by an injury, apply a cold compress to the area to stop swelling.
Call an urgent care dentist to organize an emergency visit. Be sure to bring along your well-preserved broken pieces.
Tooth Pain FAQs in Atlanta, Georgia
If My tooth hurts, can I postpone treatment?
Don't postpone treatment until the pain worsens. Set up an immediate appointment when the first symptoms manifest. Getting immediate treatment can prevent the problem from exacerbating and becoming more costly. If you visit as soon as possible, your dentist may get you out of the pain with just a dental filling. 
The longer you postpone the treatment, the more severer the problem becomes. In that case, you may need a more comprehensive and expensive treatment like root canal therapy, crown, or emergency tooth extraction. 
Can Tooth Pain Disappear without Treatment?
The pain cannot disappear on its own. Continue with the treatment, even if you are experiencing the symptoms occasionally. That way, you will treat the underlying condition and eliminate the pain. 
Will Antibiotics Heal My Aching Tooth?
No. Antibiotics will only relieve your pain temporarily. If an emergency dentist has recommended a dental crown or root canal therapy, an antibiotic won't treat the problem. Dentists often prescribe antibiotics to remove an infection that would lower the effectiveness of a local anesthetic. 
Of course, you will feel better after you take an antibiotic. The pain will, however, come back once the effect of the antibiotic diminishes. If you keep on using antibiotics, you may develop antibiotic resistance, meaning they will be ineffective. 
Preparing for an Emergency Dental Visit
Preparing to see an emergency dentist is the same as your regular dentist. If you have an appointment scheduled, ensure you arrive a few minutes before time. Arriving some 20 minutes early allows you to take care of the required paperwork and get used to the feel of the office. 
Although it's hard to budget for a dental emergency, ensure you have some cash or credit card to cover your emergency dental care costs. That way, you will still get emergency care, even if the dental practice doesn't take your insurance. Remember to carry your previous dental records with you. Your dentist may need to analyze your previous dental records against new ones to develop the right treatment plan for your unique situation. 
Use our referral service to locate an emergency dentist near you in Atlanta, GA. Call our emergency line 888-941-8655 any time, including at night, on weekends, and even on public holidays. 
4751 Best Rd, #215 Atlanta, GA 30337