Walk in Denture Repair Near Me – Work with a Reputable Dentist
Looking for same-day denture repair near you? Your dentures likely got damaged by complete accident even if you have been very careful. Broken dentures that irritate you will end up doing more harm. You can receive emergency denture repair assistance by calling the support number at 833-414-3355.
Quality Experience, Affordable Denture Repair Costs
Receive help 24/7, holidays, weekends & nights
Find a qualified denture specialist from a large network of specialists
Fix any denture issues anytime with emergency service
A friendly and supportive team dedicated to your full recovery
What is emergency denture repair?
Dentures give patients a second chance to smile, boosted confidence, and a second chance at life. But like normal teeth, they are not immune to certain issues. What problems qualify as emergencies, and which can generally wait?
Dentures breaking in half: Now, this is a real denture emergency, particularly if you don't have any replacement dentures – a second pair. Many factors could have contributed to the dentures breaking in half. Drastic temperature changes may have introduced small fractures, eventually contributing to them breaking in half. An improper fit may have resulted in less stability for dentures. Of course, any forceful impacts from dull objects such as falling on the ground will break dentures. Fortunately, our team is ready to help get you the best denture repair service.
Chips on denture teeth: Dental teeth that sit on top of the denture base are prone to chips, too, for instance, after biting on hard substances or experiencing any blunt force. A denture repair kit may is not advised to try and reattach the chipped tooth. However, try and save the piece. The dentist may have an easier time replacing and cementing it back in place. The chipped section may have sharp edges that may contribute to further damage. You can avoid wearing dentures if this is the case.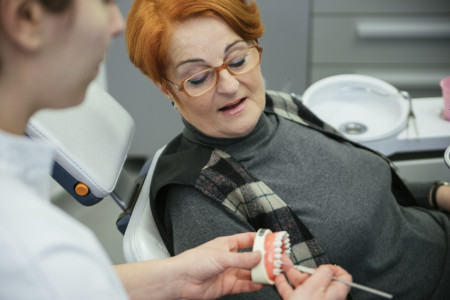 Swallowing a denture piece: Dentures come with safety features that make them safe to use and difficult to go down your throat. However, it's likely for small pieces to loosen up, causing you to swallow them. There may not be any cause for concern. Most dental prosthetics can pass through your system. But if there is anything lodged in your throat, it's important to seek help from an emergency dentist.
Sharp edges irritating your tissues: Aging dentures may develop sharp edges in the borders, clasps, and other parts. This may result in irritations to the soft tissues in your mouth, making you prone to injury and, if untreated, infections that could get severe with time.
Infections: Dentures resting on gums may not be prone to infections. However, if the prosthetics are held in place using implants, any infection may cause you to feel some pain or discomfort during normal denture use, such as chewing.
You can request emergency denture repair from leading dental repair labs by calling our support number.
How can I find denture services near me?
Fixing dentures requires skill and expertise. But sometimes, it can be hard to find it, particularly if you have lost contact with your former dentist or are looking for an option nearby.
A good search online may turn up some leads. Local directories lists may list dental practitioners. But note that fixing dentures generally requires some specialized skills, and general dentists tend to be just responsible for keeping your teeth healthy and free from cavities.
That's where we step in. You can get help from dental professionals and reputed dental labs with one call.
Can I get same-day denture repair, and what is it?
Dental offices deal with a hectic schedule, and booking same-day denture repair may be as hard as it gets. With same-day denture repair services, you can get repairs booked and completed on the same day. After calling our support number and receiving a referral to the denture lab, you can find out about the estimated wait times, payment options, and where they are currently accepting walk-ins.
How much will denture repairs cost from a denture repair lab?
The cheapest fix begins at about $50. But, most denture repairs will cost between $100 to $200, depending on which services are required. Now, denture relining entails reshaping the dentures for a more comfortable fit. It may cost a little bit more, going for as much as $300. Repair costs may also depend on the individual rates each office is charging, the length of the repair, and the prosthesis type.
Dos and Don'ts of Preventing Denture Damage
So, how can you prevent broken or damaged dentures? Here are some dos and don't that will minimize the chance of broken dentures:
Do visit your dentist regularly for checkups for healthy gums and bone loss;
Do handle dentures with care when cleaning;
Do perform regular inspections of your dentures, looking for any signs of cracks or excessive wear and tear;
Give your dentures regular breaks, remove them when you go to bed, and soak them in water.
Some don'ts of denture include:
Don't use hot water to soak or wash your dentures;
Don't use any whitening toothpaste or bleach;
Don't use any abrasive brushes on your dentures.
Contact us for any dentures repairs near me
If you have any questions about emergency denture repair, get help by calling our hotline. You'll get your dentures repaired by qualified professionals, leaving you with a smile that will last for many days.