Locate an Emergency Dentist Near You in Port St Lucie, FL, Within Minutes
It can be a nightmare if you have a dental emergency, such as a broken tooth, especially during off-hours. In the face of a dental emergency, you certainly need urgent dental care. Failure to seek emergency dental care service can sometimes result in severe complications. If you are experiencing any dental emergency, contact us right away for immediate dental referral service. Our 24/7 dental hotline is 772-268-9818.
Most regular dentists operate within normal business hours- 8.00 a.m. to 5.00 p.m. This schedule means your regular dentist cannot help you if a dental emergency occurs outside these hours. Having an emergency dentist on speed dial is paramount because minor emergencies require prompt treatment.
We encourage patients in Port St Lucie, FL, to always have our number for professional assistance at a moment's notice. We have partnered with the best-trained emergency dentists in Port St Lucie and its environs.
Our extensive partnership and understanding of the dentistry industry mean you can get emergency dental services with just a single phone call. Call us if you have dental issues, such as bleeding gums, severe toothache, and tooth infection. We will direct you to an urgent dental clinic near you immediately.
What to Expect During Your Emergency Dental Visit?
Examination and Diagnosis
When you visit an emergency dental office, the first action your dentist will take is to examine your dental issue. Your dentist may capture an X-ray image to ascertain the extent of your dental problem. Your dentist will then diagnose your problem after reviewing the findings. The dentist will also decide the best treatment course for your issue.
Examination and Diagnosis
After examining the dental issue, your emergency dentist will give you an appropriate anesthetic agent. The type of anesthetic agent administered will depend on the procedure you need.
After numbing your pain, your emergency dentist then proceeds to treat your dental problem. The treatment varies depending on your dental issue. If you have lost your dental fillings or crown, your dental professional may perform restorative dentistry. The professional may recommend a new filling or re-installation of the previous dental filling.
If you have a knocked-out tooth, a dental practitioner may replant the tooth. It is crucial to note that a tooth has a lifespan of about 30- 60 minutes. When visiting your dentist's office, ensure that you carry your knocked-out tooth. Preserve it in salty water or milk.
If you are experiencing a root cavity or a dent may recommend a root canal procedure. 
Seek urgent dental care immediately if your dental implants or dental braces have become loose or broken. Your walk-in dentist in Port St. Lucie may re-fix your broken braces or replace them with new ones.
Your emergency dentist in Port St. Lucie will prescribe medications after performing the required dental procedure. These medications serve to reduce the pain and also accelerate the healing process. Your drug regimen will include painkillers and antibiotics if there is a risk of infection.
Before leaving the dental clinic, the practitioner may schedule a follow-up to check up on your healing progress. Dental follow-ups help both the doctor and the patient. For doctors, they will assess whether you may need additional treatment and whether you are recovering. To the patient, a dental follow-up ensures healing stays on course. Follow-ups also offer a chance to describe how you are feeling and whether you are feeling any other discomfort.
Frequently Asked Questions about Emergency Dentistry
Where Do I Find an Emergency Dentist Near Me?
Finding an emergency dentist can be difficult if you need emergency dental care promptly. Give us a call at our toll-free number 772-268-9818. Our referral specialists will link you with an urgent dental practitioner promptly. We operate during regular hours and off-hours 24/7. Our professional dental office team can also schedule a same-day appointment for you if you request.
What Is the Cost of Emergency Dentistry?
The cost of emergency dentistry varies depending on the type of dental procedure you require. The cost varies from one dental issue to another. The cost of immediate dental care is almost the same as regular dentistry.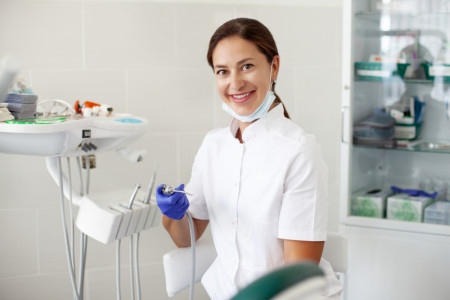 Do You Open on Saturdays and Sundays?
We understand that dental concerns can arise even on weekends. That's why we keep our phone lines open 24 hours a day, seven days a week, 365 days a year. A referral specialist is waiting to answer your call at any time.
When Should I Visit an Emergency Dental Department?
You need to seek immediate dental care if you have serious tooth pain, a broken jaw, or broken braces. In addition, if you crack a tooth during your meal, make a point of visiting an emergency dentist.
291 NW Peacock Blvd, #205 Port St. Lucie, FL 34986