Reliable Dental Health Care in Long Beach, CA
Are you experiencing severe pain in your teeth and can't decipher the root cause? Then it's time to get in touch with your nearest emergency dentist in Long Beach, CA. With swift dental services in your corner, you can avoid grave issues such as an infected tooth, cracked filling, chipped teeth, gum swelling, bleeding, and other such dental emergencies.Taking care of these dental concerns quickly can not only provide you with immediate relief from extreme pain, but it can also help eliminate future dental problems from emerging again and again.Dealing with dental pain on one hand and trying to locate your nearest emergency dental clinic on the other, especially in the middle of the night, can be a challenge. That's where we come in. With our emergency dental services from our finest 24-hour dentist in the Long Beach area, you can be assured that reliable and urgent care for all your dental issues will be taken care of immediately.
Call 888-941-8655
to book an appointment today and receive treatment for various dental emergencies from our network of experienced Long Beach dentists.
Diverse Emergency Dental Services in Long Beach
To keep your dental and oral health in top shape and to resolve various dental emergencies, reach out to us with just one phone call. You can also avail diverse benefits and emergency dental care services such as the following:
A highly-qualified team of emergency dentists and support staff.
World-class facilities and advanced dental procedures.
Same day appointment with no wait time.
Multi-specialty dental treatment for all kinds of dental problems.
24-hour emergency dentist available even for weekend hours.
Affordable and convenient payment options such as dental insurance, credit card, cash, or personal checks.
Accurate diagnosis and pain-free dental care.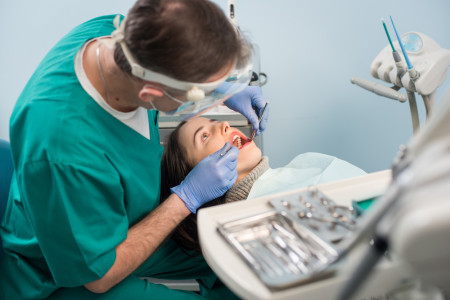 What Constitutes Dental Emergencies in Long Beach?
There may be instances where you have to be rushed to the dental office during emergencies. While other times certain simple procedures or treatments can work wonders and bring down the pain immediately. Reach out to our Long Beach emergency dentists and get treated the right way. Here are a few dental problems you can look out for before your visit.
If your experiencing a serious, unbearable toothache, and the pain presides even after using a cold compress or any pain relief medications, make an emergency appointment with your nearest dentist in the Long Beach area.
Extreme pain and swelling can be caused due to an infected tooth or decay. It can be resolved with a root canal or tooth extraction when detected in the early stage. Consult with your Long Beach dentist for a speedy recovery.
Soreness And Bleeding Gums
Soreness and bleeding gums can be the result of gum diseases that are caused due to heavy buildup of plaque in the gum line. This can lead to inflamed gums or gingivitis, which causes slight bleeding.
Bleeding gums may occur not necessarily due to diseases as well; it can be due to flossing, abrasions from foods, or during brushing teeth. Getting the necessary dental care can prevent further damage to your overall dental health.
Chipped And Cracked Tooth
If your tooth is chipped or cracked due to an accident, you may feel extreme tooth sensitivity and pain while chewing. It's best to get it checked with the Long Beach emergency dentist to avoid further complications.
According to the diagnosis and the range of your chipped tooth, dentists can advise for dental fillings, dental caps, veneers, and such. For the Cracked tooth, certain dental crowns can be used for enamel protection as per the nature of the diagnosis.
Swollen mouth or jaw can happen due to several reasons. The common one is due to sinusitis or inflammation in the nasal cavity. This occurs if you're allergic or have a viral infection and, in most cases, can be treated at home with a cold compress or medications.
If swelling continues, it can also be the result of a tooth abscess or due to tooth extraction. Whatever may be the reason, visit the Long Beach emergency dentist for a thorough check-up and treatment.
How to Detect Dental Emergency Signs?
If you're experiencing any of the above dental emergencies, it always comes with certain distinct signs that warn the human body of ill-health. This can be vital in preventing and implementing appropriate dental treatments before it gets worst. Some of the signs to look out for to detect dental emergency are:
Teeth sensitivity
Sudden tooth loss
Extreme pain
Serious toothache
Swelling and popping jaw
Fever and infection
Dental abscess
Loose tooth
Trouble swallowing and breathing
Emergency Dentistry in Long Beach
Dentistry is important in the prevention of disorders, diseases, and diagnosis of teeth and mouth. Our extensively put-together dentistry services in Long Beach, CA, enable faster treatments with a high recovery rate.
With our expert professionals, we aim to bring world-class facilities to the areas near you. We are just a phone call away from connecting you with the required emergency dental care.
What to expect when visiting Long Beach Emergency Clinic?
When you visit the Long Beach emergency clinic, the dentist will first diagnose with the help of x-rays and other devices to get to the root cause of your dental problem. For some minor issues, the dentist can advise a home remedy, jaw exercise, or pain medications. While emergency cases would need extensive procedures and forming a treatment plan. Then the dentist or dental clinic will provide the estimated costs for your procedures.
What is the cost of availing of Long Beach Dental Emergency?
Each emergency dental procedure and treatment differs from the other. The cost would also depend on the issues accordingly. When you visit the emergency dental clinic in Long Beach, CA, our professionals will review your dental problem and provide detailed information about your procedures. Dental emergencies such as dental fillings, bonding, root canal, or dentures will cost as per the requirement needed.
Schedule your appointment today with the Long Beach Emergency Dentist
For all your dental requirements, schedule your appointment with Long Beach dental facilities and avail yourself services from minor to emergency dental issues with a same-day appointment. Get treated by professionals who have years of expert experience in the field with world-class facilities and dental treatments.
200 Pine Ave, #420 Long Beach, CA 90802
90712, 90716, 90731, 90755, 90802, 90803, 90804, 90805, 90806, 90807, 90808, 90810, 90813, 90814, 90815, 90840