Urgent Help from An Emergency Dentist Jersey City, NJ
Team Emergency Dental is your trusted partner for locating a top-notch emergency dentist in Jersey City. We have you covered whether you are dealing with throbbing tooth pain, a broken tooth, or a painful abscess. We offer an in-depth listing of reliable urgent care dentists. These dentists are always available to get you in and resolve your dental emergency promptly.
We also have a 24/7 helpline that allows you to speak with a live dental specialist. This courteous specialist can immediately schedule an appointment with a conveniently located emergency dentist.
The specialist has the required training to assist you in scheduling a same-day appointment with the nearest dental care services. Our hotline is 844-700-1220. Be sure to save this toll-free number in your phone book. You can reach out to our specialists without wasting too much time.
Receiving Immediate Dental Care in Jersey City, NJ
Our extensive listing of emergency dentists seeks to address your emergency as soon as it strikes. We have a variety of dental clinics that suit your busy schedule at work or school. 
Walk-in Dentist's Offices
These offices can offer emergency attention to your dental problems. You can show up at the office and get the required treatment without securing an appointment. Both new and existing patients can get dental services from walk-in dentist's offices in Jersey City, NJ. 
Some walk-in offices operate strictly within the normal office hours, from 8:00 AM to 5:00 PM. Others offer services for extended hours. Call us for directions to a walk-in dental office that suits your situation. 
Late-Night Dentist's Offices
Are you in the middle of an after-hour dental emergency? If so, a late-night dental clinic is your option for getting out of the discomfort. These clinics stay open as late as 9:00 PM. You can make an emergency appointment if a dental emergency occurs after your dentist has closed. 
Dental emergencies can arise even on weekends when most dentists are closed. When they do, our service will pair you with a weekend dentist near you. 
24-Hour Emergency Dental Clinics
These clinics treat common dental emergencies in Jersey City, NJ. These urgent problems include knocked-out teeth, severe toothache, bleeding gums, lost crowns, and other critical issues. 
Type of Dental Emergencies that Require Emergency Dentist Attention
Some dental problems can wait until your regular dentist opens. Others need urgent dental care to avoid permanent damage and further health complications. A minor tooth crack, for instance, can wait until regular office hours.
A missing or severely chipped tooth will need an emergency clinic visit for immediate treatment. The following are concerns that deserve emergency dental care: 
Chipped, Cracked, and Knocked-Out Teeth
Trauma to the mouth can leave you with an avulsed or severely chipped tooth. Getting emergency dental services can mean the difference between a preserved tooth and a permanently damaged tooth. 
Many people don't know that even a completely dislodged tooth arising from a dental trauma can get saved. It, however, depends on how quickly you act and the first aid steps you take. Stay calm when your tooth gets knocked out of its socket.
 Look for the tooth and retrieve it by holding the crown. Wash off the dirt with clean water and keep it soaked in cold milk or salt water. Placing a cold compress over the injured area can help reduce the swelling. Show up at the dentist's office within an hour to increase the odds of successful re-planting.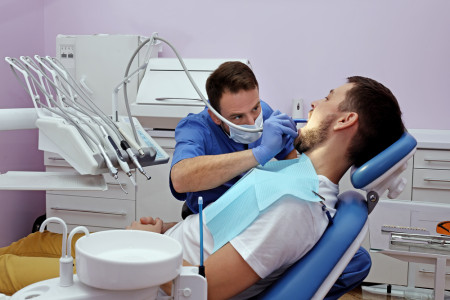 This condition occurs when pockets of pus form under the teeth. A tooth abscess can cause unbearable pain and life-threatening infection if left untreated. Getting emergency treatment enables your dentist to drain the pus carefully and treat the infection before it worsens. 
Severe tooth, jaw, and Gum Discomfort
Uncontrollable gum discomfort could indicate serious gum disease. Don't delay treatment when feeling extreme discomfort in your tooth, jaw, or gums. Over-the-counter painkillers may ease the discomfort, but they cannot address what is causing the discomfort. 
Losing a filling or crown causes sensitivity and discomfort in the affected tooth. It also exposes the opening to infection. Getting the lost fillings and crowns replaced immediately can eliminate pain and significantly minimize the odds of the infection entering the cavity. 
Call Us for a Timely Emergency Dentist Appointment
Call 844-700-1220 if you have a dental problem that you think needs immediate care. We will help you identify a dental clinic near you that provides same-day appointments. 
Our complete listing contains Jersey City emergency dentists with the required credentials. That doesn't prevent you from performing your independent background checks. The American Dental Association (ADA) website is a precious resource for verifying the licensing of your selected local dentist. The New Jersey Dental Association website can also prove helpful when it comes to confirming the qualifications of your dentist. 
90 Hudson St, Jersey City, NJ 07302