Get Emergency Dental Services in Greensboro, NC - Quick Appointment Now
Team Emergency Dental is your one-stop center for locating a reliable emergency dentist in Greensboro. Our detailed and regularly updated listing contains dentists that can treat dental emergencies. Call us at 336-737-6757 whenever you need to find an emergency dentist. Besides helping you find a great 24-hour dentist quickly, our specialists will guide you on how to make an emergency appointment. 
Most Frequently Asked Questions About Emergency Dental Practice in Greensboro, NC
What Qualifies as a Dental Emergency?
What amounts to a dental emergency varies from one person to another. Many people will make an emergency visit for a loose tooth. Others will only seek urgent care for a tooth that has been completely dislodged from its socket. Most emergency dentists categorize emergencies into broad classes: those that result in pain and those that cause visible damage. They further classify the most common dental emergencies into three groups according to priority level: 
High-Priority Dental Concerns
Problems under this category require emergency dental care. They include: 
Knocked-out tooth due to trauma 
Excessively bleeding gums
Severe dental pain that doesn't resolve even with pain-relief medication 
Soft tissue injuries – commonly affecting the tongue, gums, lips, and cheeks 
Swollen gums 
Advanced periodontal disease and gum disease
Severely broken tooth
Loose teeth due to trauma 
Get emergency treatment immediately if you have any of the above-itemized concerns. If your efforts to find a Greensboro emergency care dentist have been unsuccessful, you can reach us at 336-737-6757. We'll immediately provide information about all available emergency dentists near you. 
These problems require same-day treatment. In short, you should have them solved within 24 hours. They include: 
An infected or abscessed tooth 
Loose crown 
Misaligned tooth 
Exposed tooth 
Cracked or fractured tooth 
Get a same-day appointment with a Greensboro dentist's office near you for any of the above concerns. Our service can help you with that. If you think you have a serious concern not listed above, don't shy away from seeking emergency dentistry services. 
Issues in this category should get addressed within 1 to 2 days. Don't wait any longer than that. Otherwise, a small issue can quickly become a major dental emergency requiring intensive and expensive treatment. Examples of low-priority concerns include:
A detached crown or bridge 
Loose or lost filling 
Loose orthodontic device 
Minor tooth crack
What are My Options for Dislodging Stuck Items?
You have several options for removing lodged food debris or other small items. You can use salt water or mouthwash to rinse your mouth. A mouth rinse with any of these products can free stubborn food debris. 
You can brush for two minutes to remove those pieces of food still trapped after the rinse. The bristles of your toothbrush, however, might not be strong enough to remove trapped items. 
The third option is to use dental toothpicks or floss to dislodge any items still trapped between your teeth. If you feel some objects are still caught between your teeth, it's time to schedule a visit to a dentist's office for a comprehensive cleaning. 
Will My Insurance Cover My Dental Care in an Emergency?
Most dental insurance plans meet the cost of emergency dental care. However, the covered procedure and amounts available vary from plan to plan. Your insurance policy may have a maximum amount you can spend on dental treatment per visit or year. In this arrangement, a single emergency appointment can substantially reduce the amount available for future appointments that year. 
It's also important to note that you may need follow-up appointments to resolve a problem. You may, for instance, require a follow-up crown placement after root canal therapy. An implant may also be necessary after an emergency tooth extraction. For these reasons, you should find out from your insurance provider what procedures are covered and by how much. 
I Don't Have Insurance. What are My Options?
You will most likely incur out-of-pocket costs if you don't have insurance. Other potential payment options available to you include credit cards, checks, care credit, and discount plans. Find out all the available payment options by calling your emergency dentist's office in Greensboro, North Carolina in advance.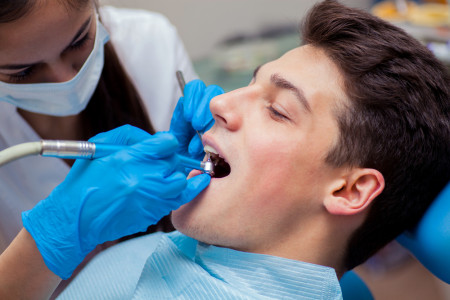 How Should I Prepare for My Dental Clinic Visit?
There is no special preparation required for an emergency dental office visit. Just prepare as if you were going to your regular dentist's clinic. Look for your latest dental records, like exams and X-rays and carry them along during your visit. Other documents you should bring along include your identification, insurance card, and list of all prescribed or over-the-counter medications you are taking.
Your emergency dentist may need to compare findings in old and new records. That way, the practitioner can customize a suitable treatment plan for your condition. 
It is best to be at the clinic at least 15 minutes early. This will give you ample time to fill out any forms. You'll also have time to interact with the staff members and ask any questions you might have. You can, for instance, find out the available sedation options for patients with dental anxiety. You can also find out if the dental clinic will accept your insurance. 
Team Emergency Dental is available 24 hours a day, including on weekends and holidays, to pair you with a Greensboro emergency dentist. We also provide valuable information to help you make the right decision when a dental emergency strikes. Call our emergency dental hotline at 336-737-6757 for professional and prompt assistance. 
Should I visit an emergency room if I have a toothache?
Oral Hygiene is crucial in avoiding tooth pain caused by an infection in the root or gums. Several reasons, like an infection, tooth abscess, swelling of gums, accident, etc., can cause toothaches. One should only visit an emergency room in case of an accident and need immediate attention for a professional.
What type of dentistry do our specialists offer?
Our professional oral care professionals offer the following services to their patients. 
Cosmetic Dentistry covers services like teeth whitening, teeth cleaning, and braces.

Friendly dentistry is like a family dentist offering comprehensive dental care like dental crowns, fillings, implants, and many more.
204 Muirs Chapel Rd, #325 Greensboro, NC 27410