24-Hour Emergency Dentist in Glendale, AZ
Do you have a severe toothache that's worsening every day? If that's the case, then you need immediate treatment. When your regular dental office is closed for the day, postponing or waiting for them to open when you are experiencing extreme pain is something unimaginable.Fortunately, with us, you can get immediate help and precise dental treatments around the clock. With our extensive directory of highly qualified dentists throughout the United States, including Glendale, we aim to provide exceptional emergency dental services with just one phone call.You can connect with us through our
24/7 toll-free phone number at 888-771-4655
or find an available 24-hour dentist in Glendale through a simple search on our website.
How to Tackle Dental Trauma in Glendale, AZ?
Dental trauma is a physical injury to the teeth, mouth, gums, jawbone, and tongue. These injuries can happen due to an automobile accident, sports injury, or a heavy impact on the teeth and mouth. Injury to the soft tissues can cause unbearable pain that can result in excessive bleeding, broken teeth, chipped tooth, and in some cases, even tooth loss.
These emergencies need immediate treatment by an experienced dentist right away. If left untreated, it can cause more dental complications requiring surgery and other complex treatments. You can apply a cold compress on the affected area or use OTC pain relief medications. If the bleeding persists, apply gauze until you reach a dental office.
Avoid dental trauma conditions from escalating by reaching out to our urgent Glendale dental care services. Our 24-hour call specialists will guide you to the nearest emergency care facility for immediate relief.
Common Dental Emergencies in Glendale, AZ
Dental emergencies can be extremely painful and unpredictable. There is no saying when a dental problem can emerge. It can be in the middle of the night, after office hours, during vacations, or even on the weekends. These sudden dental conditions can stop your routine work and upset your whole day.
Our dental services in and around Glendale ensure that you get immediate treatment as soon as possible because delaying treatment can cause severe dental pain and further damage your oral health.
Following are some common urgencies that need emergency dental care:
Do you have severe pain, swelling gums, swollen face, or even red, tender gums? If yes, then it could be a sign of a serious gum infection or disease. This dental problem is a serious condition that needs to be checked by an emergency dentist as soon as possible.
This dental problem is relatively preventable if it is treated immediately. Our dental care provides precise treatment plans and procedures from an experienced Glendale emergency dentist.
Emergency dental treatment can be cleaning out the affected areas, incisions to drain out the infected pus, or in some cases, surgery.
Broken and knocked-out tooth
Accidents, sports injuries, falling, etc., are some of the reasons that result in a knocked-out or broken tooth. These emergencies can be extremely painful and sometimes unbearable. Fortunately, your knocked-out tooth can be re-attached if you make it to an emergency dental clinic as soon as possible.
Your tooth needs to be carefully preserved and kept moist at all times. So when an emergency dentist performs treatments, it can be reinstated back to the socket successfully.
Don't know who to call to make an emergency appointment? Don't worry; with our emergency care services, you can get immediate treatments with just one phone call.
Dentures are great teeth replacements if you have lost some or all your tooth due to cavities, accidents, or tooth decay. Their natural tooth-like structure makes them easily removable, easy to clean, and comfortable to wear. But they can be broken or damaged due to wear and tear, accidents, or improper fit.
If this happens, visit your nearest dental office immediately. You can either get your dentures repaired or replaced. Our dental services offer urgent treatment around the clock from expert dentists in Glendale.
Severe toothache and sometimes even tooth loss are some of the signs when it comes to tooth decay. It can be caused due to untreated cavities, accumulation of bacteria in the teeth and gums, and poor dental hygiene. If left untreated, it can lead to infections and tooth loss.
Prevent this dental emergency by contacting our dental services with just one phone call. Depending on the severity of your damaged tooth, dentists can recommend fillings, crowns, and fluoride cleaning. If the case is severe, the treatments can include a root canal or emergency tooth extraction.
Dental fillings can last long if properly maintained, but in some instances, such as chewing and biting too hard, a dental injury, or new tooth decay can lead to a cracked filling. If this happens, don't panic. Visit your nearest dental care facility for immediate dental assistance.
Depending on the tooth's condition, you can either get it replaced by a new filling or reuse the old one. Use our after-hours hotline phone number when in crisis and get urgent dental treatment.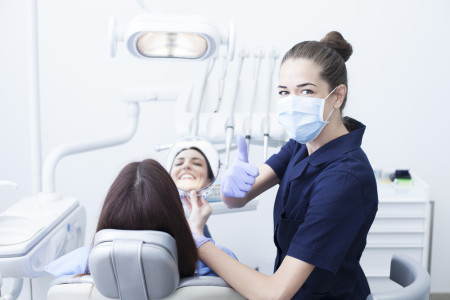 Get Quick Dental Appointments with Emergency Dentist in Glendale, Today!
Dial 888-771-4655 in case of dental-related concerns, whether it's dental emergencies or routine checkups. Our proficient call specialists will direct you to the concerned emergency dentist near you. Please schedule an appointment with our 24/7 helpline toll-free phone number.
6751 N Sunset Blvd Suite 350, Glendale, AZ 85305
85031, 85033, 85037, 85301, 85302, 85303, 85304, 85305, 85306, 85307, 85308, 85309, 85310, 85335, 85340, 85345, 85355, 85381, 85382, 85383