Seek Dentistry Care from An Emergency Dentist in Arlington, VA, Immediately
Experiencing a dental emergency can be frightening and stressful. You might end up assuming the worst when dealing with a knocked-out tooth or a severe gum infection. All you wish at this time is to return to normalcy. The sooner you seek emergency dental services near you, the faster you can prevent permanent damage. 
The disappointing news is that it's hard to locate a dentist in Arlington. Don't panic, though. Team Emergency Dental is available 24 hours a day to aid you in locating an Arlington Dental care provider in your exact moment of need.
Call us immediately at 888-771-4655
to schedule an appointment with an emergency dentistry office.
Signs That Demand Urgent Dental Care
Bleeding or swelling in the gums, loose teeth, unexplainable toothaches, and prolonged sensitivity are some of the major signs pointing out that you need immediate dental care. Reach us right away to receive emergency care and relieve the pain. 
Also, don't hesitate when you get your tooth chipped off: it may become an excruciatingly painful experience if left untreated.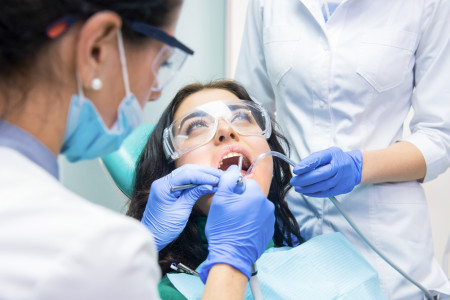 Most Common Types of Dental Emergencies in Arlington, VA
Loose or Knocked-Out Tooth:
Trauma to the mouth can loosen or completely dislodge teeth out of their sockets. Causes include work or sports-related injuries, motor accidents, or by collapsing hard on the floor. 
The following procedure may help save your precious smile (note that this is applicable for permanent teeth only): 
Try to keep a loose tooth in place by biting down on it gently. For a completely dislodged tooth, preserve it by rinsing it carefully while holding it by the crown. Then place it back in its socket and hold it in position by biting it down gently. Remember, don't force it in. 
If the above procedure fails, fill a small container with milk or salt water and place the tooth in it. Get treated by a local urgent dentist as soon as possible.
A blow or impact to the mouth can cause a tooth to chip or break. Another potential cause of this dental emergency is biting down on a hard substance. Chips, cracks, or breaks can also arise if you open packages with your teeth. 
Collect the tooth pieces, preserve them, and carry them to an emergency dental office. The best way to preserve the pieces is to put them in a container of salt water or milk. Your dentist can repair a broken or chipped tooth with either a bond or a tooth-colored filling. 
When bacteria contaminate a certain area in our mouth, our immune system sends a group of White Blood Cells (WBCs) to this region, directing them to accumulate there in the hope of battling this harmful intruder. But unfortunately, this accumulation tends to lead to inflammation, causing a pocket to develop over it. Over time, the pocket contains pus, filled with our still strong as well as defeated WBCs, the intrusive bacteria, and the damaged tissues of this region. This entity so formed is called an abscess. 
This dental issue occurs either at the tip of the root of a tooth (periapical) or the bone or gum tissues that support it (periodontal), dental decay and injuries being the major causes. 
This abscess must be drained at the earliest to prevent future complications. This can be done either with antibiotics, a root canal procedure, or tooth extraction, depending on the type and severity.
Excruciating tooth pain can be a sign of different dental conditions. It could stem from something as simple as pieces of food trapped between two teeth or arise from something as complex as an infected pulp chamber. 
Flossing around the painful tooth can alleviate the pain if there is a stuck food fragment. You can also try to ease the discomfort by applying a cold compress outside the cheek over the aching area and rinsing your mouth with warm water. Recommended dosages of over-the-counter medications like acetaminophen and ibuprofen may help relieve the pain.
Call our dental office in Arlington to set up an emergency appointment if you develop a toothache unexpectedly. 
Loose or Broken Orthodontics:
Loose or broken orthodontics or braces can cause cuts, scratches, and discomfort inside your mouth. As you prepare to see an oral health specialist, put a piece of dental wax on the braces. Make sure to cover the sharp ends with the wax. 
Don't try to cut the wire because you may end up swallowing that piece of wire. Don't try to take off any loose braces. Only an experienced dental professional can do that without injuring your teeth and surrounding tissues. 
A serious oral issue is a mandibular fracture or fracture of the jaw. The most common one affects your enamel. Facial swelling, excessive pain, and bleeding are the initial symptoms. In this situation, you need urgent dental care. Call our toll-free number, and we will guide you throughout the process. 
Cost of Receiving Dental Care Treatment in Urgency
The cost of your emergency dental treatment will depend on the type and severity of your dental condition. The number of affected teeth can also affect the cost. The least expensive treatment is filling a cavity. 
Placing a dental cavity can cost between $110 and $250, depending on the material used. Your bill can increase significantly if you need to fill several teeth. 
Root canal therapy is one of the most common and expensive dental procedures. Its cost, however, varies depending on a variety of factors. An insured patient can expect to spend $700-$900 for an infected front tooth. The average cost of treating an intermediate tooth is $800-$950. Treating molars, on the other hand, can cost between $1,000 and $1,200. 
As you can see, same-day emergency treatment can create a huge hole in your savings. This is especially true if you don't have dental insurance. Fortunately, you have some options for making dental care affordable.
The most effective way to reduce emergency dental care costs is to prevent such emergency situations. You can do that by observing good oral hygiene, regular dental checkups, using teeth for the correct purpose, and wearing a mouth guard while playing sports. Other options include buying discount cards and enrolling in dental insurance plans. 
Call Us and Book an Appointment in Arlington, VA
We are ready to help you get 24/7 dental care. Team EmergencyDental is waiting to answer your call 24 hours a day, 52 weeks a year. The number to call in your time of need is 888-771-4655. We will get you a same-day appointment within seconds.
1500 Wilson Blvd, #730 Arlington, VA 22209
22201, 22202, 22203, 22204, 22205, 22206, 22207, 22209, 22211, 22213