24-Hour Dentist - Experienced Team in Anaheim, CA
Is it your first time making an appointment for an emergency dental treatment? Don't worry; we got you covered. With our dental services in Anaheim, we ensure precise procedures, immediate care, various treatment options, and same-day appointments. Get rid of all your dental concerns with our experienced team of emergency dentists.
Dental emergencies such as severe tooth pain, tooth decay, chipped tooth, lost filling, knocked out, or broken teeth need urgent care. Neglecting to resolve these emergency cases can result in further medical complications. Prevent your teeth and mouth from further getting damaged by visiting your nearest dental office for immediate attention.
Book your emergency appointment today by calling 657-237-7636 for reliable procedures for your emergency problem.
24-Hours Emergency Dental Services in Anaheim
Dental emergencies such as a broken tooth may need an emergency tooth extraction, or severe gum infection can need dental surgery. These procedures can be daunting when you are undergoing the treatments for the first time. With our emergency dental care in Anaheim, we ensure that we provide you with the best possible care. When you make an emergency appointment with us, you can be assured that we take exceptional care when it comes to your oral and dental health.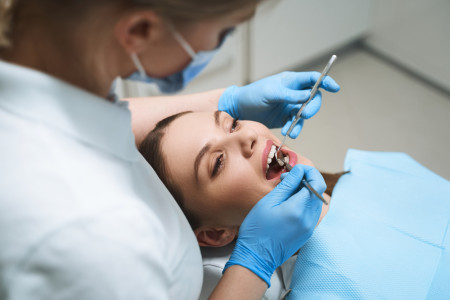 Some of the sort out dental services that we offer to our patients are as follows:
Emergency dental services for all kinds of emergencies.
Specialized network of emergency dentists and support staff.
One-stop facility for all dentistry branches.
Affordable insurance coverage
Varied payment options such as credit cards, insurance plans, cash, and checks.
General and cosmetic dentistry.
Advanced procedures when it comes to dental surgery, therapies, and oral surgery.
State of the art dental care facilities.
Coinvent appointment options either by calling our toll-free number or walk-in option in case of urgent dental issues.
Expert pain relief management and treatments.
Direct access to the emergency room with no wait time.
Same-day appointment with 24-hour availability even on Saturdays and Sundays.
Implant Dentistry in Anaheim, CA
Dental emergencies associated with blunt trauma, an accident, or heavy impact while playing sports can result in broken, chipped, cracked, fractured, or even knocked-out teeth. When that happens, visit your nearest dental office immediately for the required treatments and procedures. The ideal recommended procedure can be dental implants.
This branch of dentistry includes artificial fixtures that are fitted into the teeth to have a proper structure and tooth stability. They can be used instead of tooth replacements that give a sunken look when replacements are done for missing teeth or tooth extraction. As implants are fitted directly in your jawbone, they can retain your face contours and structures by holding up your jawline. And what's more, they look and function like a natural tooth.
With our emergency dental care services, we offer precise treatments by our highly qualified emergency dentist in Anaheim. Get your perfect tooth corrected or fitted with implants today by visiting our dental office in areas near you.
Some of the popular dental implants and the alternatives we offer for various dental conditions and treatments are as follows:
Ridge expansion
Endosteal implants
Subperiosteal implants
Bone augmentation
Sinus lift
Dentures
Dental Bridge
Dental Emergency Problems in Anaheim, CA
Just like a medical situation, dental concerns do not wait for any. When it happens, an ideal option is to reach out to your nearest dental office to get it treated by an emergency dentist on standby. If you are a new patient, facing a dental problem can be a challenge.
That's where we come in, our dental care provides all the essential services that can make your trip to the dental office stress-free, and at the end of the day, you have a successful treatment and pain-free dental problems.
You can refer to the below dental problems when you visit our office for any emergency issues.
Excessive bleeding gums
Root canal
Lost crown
Severe tooth pain
Gum infection
Broken and cracked teeth
Lost fillings
Swollen gums and jaw
Abscess
How to Face Dental Emergencies in Anaheim, CA?
Overcome dental issues by getting urgent medical attention through our Anaheim emergency dentist. In the face of adversities, our emergency dental care offers great treatment plans, procedures, immediate appointments, and overall expert oral health.
If you're visiting areas in Santa Ana Canyon or living in Southern California, reach out to our dental office in the areas near you. To avoid getting an emergency regarding your dental problems, follow some of the below tips.
No need to panic if your dental pain worsens suddenly. Book an appointment with our highly skilled dentists and face a wide range of dental conditions efficiently.
Make a trip to your emergency dentist for routine checkups and examinations. By doing so, you can prevent emergency situations such as root canals, extreme pain in the jaws, or other dental conditions.
Change your food habits. Food habits are a major source of concern when it comes to oral health. You can keep track of what you eat for good dental conditions.
Book an Appointment with Anaheim Dentist Today for Exciting Offers
Dial 657-237-7636 for emergency cases regarding dental conditions. Our team of professionals is available around the clock to treat your emergency concerns.
1240 N State College Blvd, #250 Anaheim, CA 92806